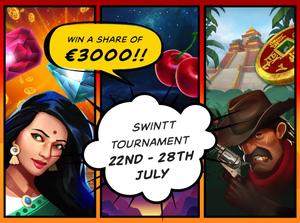 Swintt Fire Tournament
7/22 - 7/28
€3,000 IN CASH PRIZES MUST BE WON WITH THE SWINTT FIRE TOURNAMENT!
The Fire Tournament runs from 12:00 CEST on July 22 until 12:00 CEST on July 28.
Eligible Swintt games:
How to take part in the tournament?
Opt for the tournament, get points when you hit multipliers playing selected Swintt games and rise up the leaderboard. The top 25 players win cash prizes – no wagering requirements – with €1,000 to the number one ranked player!
Prize pool: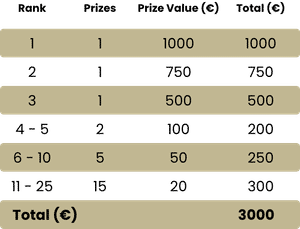 How to earn leaderboard points:
Hit the highest win multiplier*!
Play any selected Swintt slot games and aim for the biggest multiplier win
Minimum €0.60 per spin to qualify for the leaderboard
Points are not accumulated - only the biggest multiplier of the tournament counts.
*If the player wins €10 from a €1 bet, the multiplier win and score is 10. If the same player then wins €50 from a €1 bet, the multiplier win and score is 50, and so the score on the leaderboard for the player will show 50 (only the highest score remains).
Terms & Conditions: 
1.  Only the slot games that show the tournament score (leaderboard) inside the game are eligible for this promo.
2.  The winners are decided based on the highest number of points collected during the promotion period.
3.  If there are two or more players with the same score, the player who achieves the score first will get the higher position on the leaderboard.
4.  The tournament leaderboard is updated every 10 seconds. In case of a delay, all points will still be calculated - no points will be lost.
5.  Rewards will be credited into the player's account directly after the tournament ends. Please allow around 60 seconds for the competition to finalise.
6.  All cash prizes are pure cash with no wagering requirements.
7.  After the tournament is finished, players can check their position in the Tournaments tab of the widget / Finished page.
8.  In case of any discrepancy between a non-English version and the English version of these Terms and Conditions, the English version shall prevail.
9.  Swintt has the right to change, suspend or cancel the promotion at any time. 
10. A player noticed in an unscrupulous act will be automatically removed from the promotion and the gift will not be credited/deducted without warning and without any explanation.
11. Amok Casino reserves the right to change or cancel the promotion at any time, for any reason.
12. To participate in the promotion, the user must be registered and verified.
13. Amok Casino reserves the right to exclude individual customers from this offer at any time without a declaration of reasons or to cancel already activated bonuses, as well as to end this offer at any time.